State-of-the-art installations that are eco-friendly.
Our care and dedication to our raw material begins with the six production plants we run in Spain, Morocco, Cape Verde and Portugal.
In the south of Spain, specifically in Málaga and La Línea de la Concepción (Cádiz), we have specialised plants for smoked products (salmon, cod, pomfret,…), salted fish (mojama tuna, bonito dried white tuna,…).  and canned goods (La Gula® baby eels, Langostillo red crab and Concha Fina® shellfish).
A combined area of 25,200 m2 makes us a benchmark in the food sector, thanks to our supply capacity and groundbreaking technology.
In Portugal, a neighbouring country (a leading global consumer of cod), we have a 13,502 m2 plant devoted exclusively to the production of salted cod.
Crossing the Mediterranean Sea, we arrive at Morocco where our Cumarex and Dinay plants are located. Altogether, they cover an impressive 33,500 m2 and produce the best preserves of fish (sardines, mackerel and frigate tuna) and seafood.  

In the heart of the Atlantic Ocean, in the islands of Cape Verde, we produce the best canned fish, mackerel, frigate tuna and tuna, the last being a leading seller locally and internationally. It fills a total surface area amounting to 30,000 m2
All of our plants together represent a combined area of 102,200 m2, the equivalent of the Alhambra (Granada).
Thanks to the hard work and dedication in each one of them, we can guarantee that we at Ubago process 55,000 tonnes of raw material into the best smoked, canned and salted products on the market.
Spain
Marocco
Cape Verde
Portugal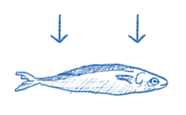 Reception of raw material. Quality controls
Washing – Head removal – Gutting
Processing of raw materials
Packing and lot making – Storage – Dispatching
UBAGO GROUP'S PRODUCTION PLANT GUARANTEE